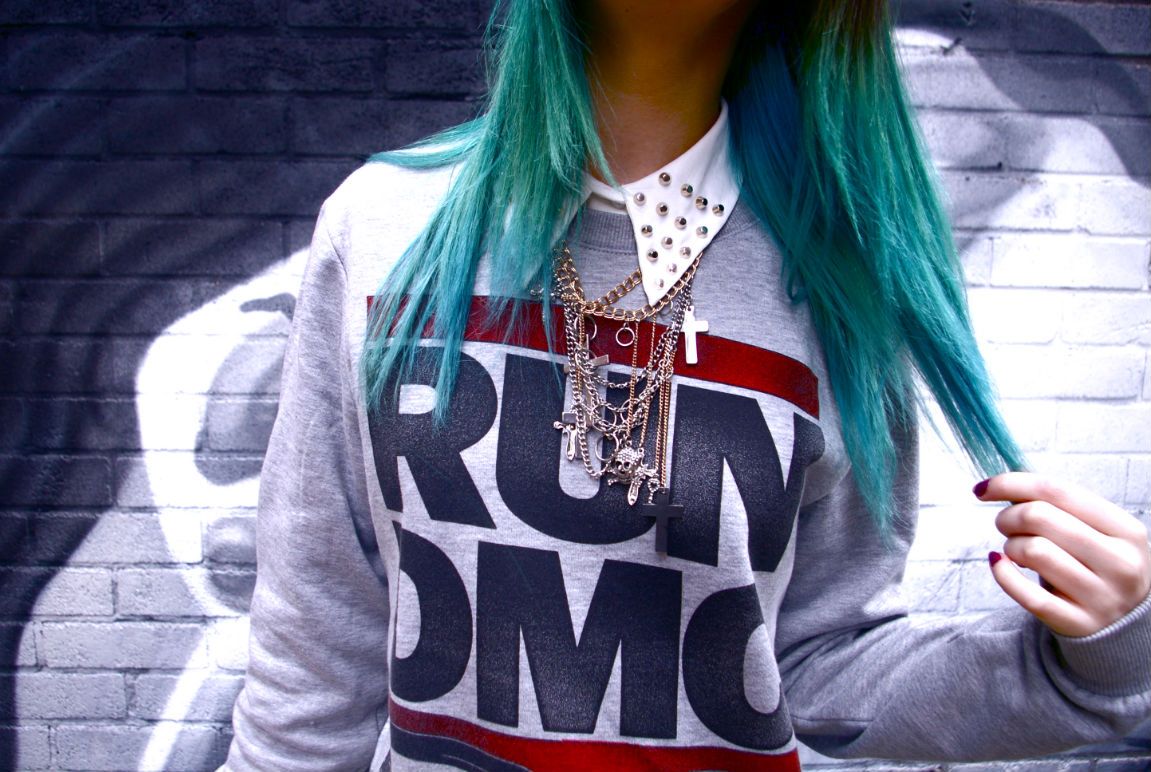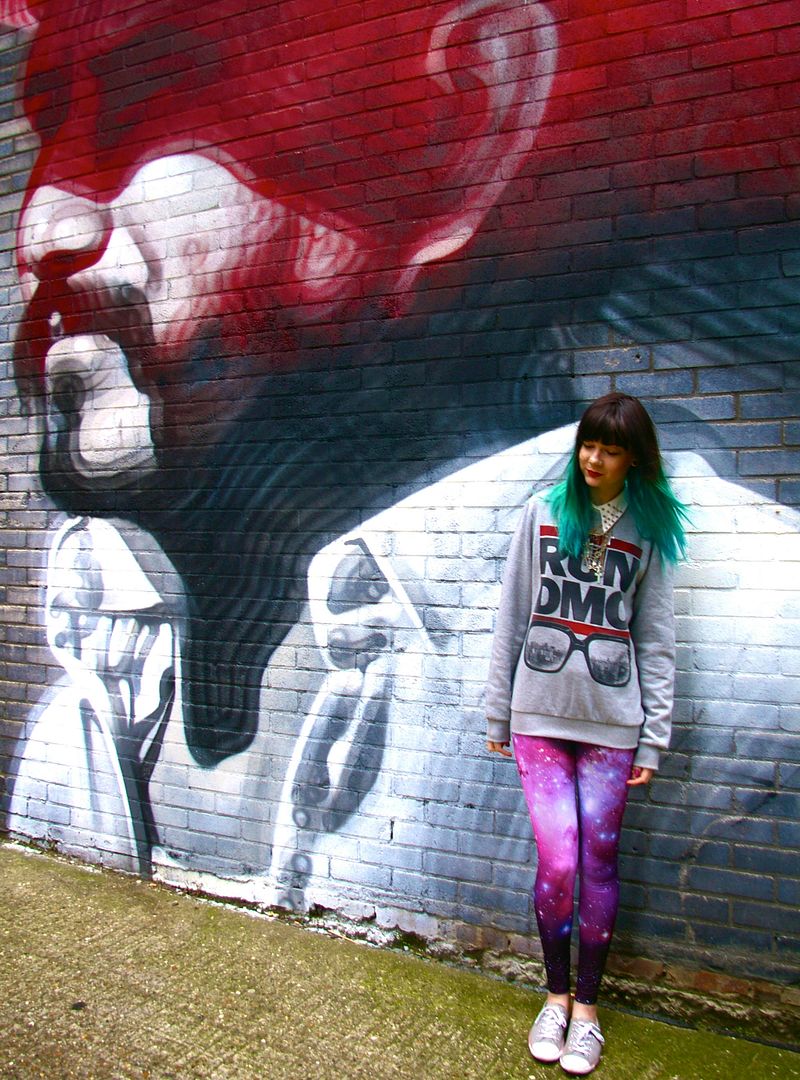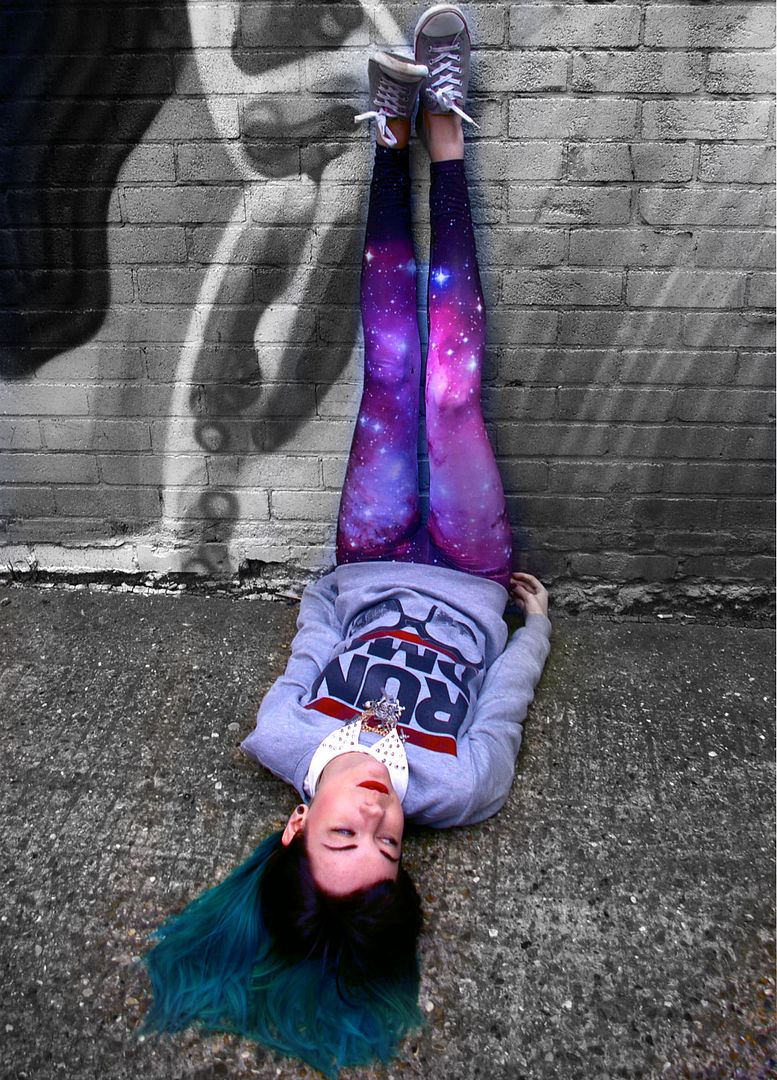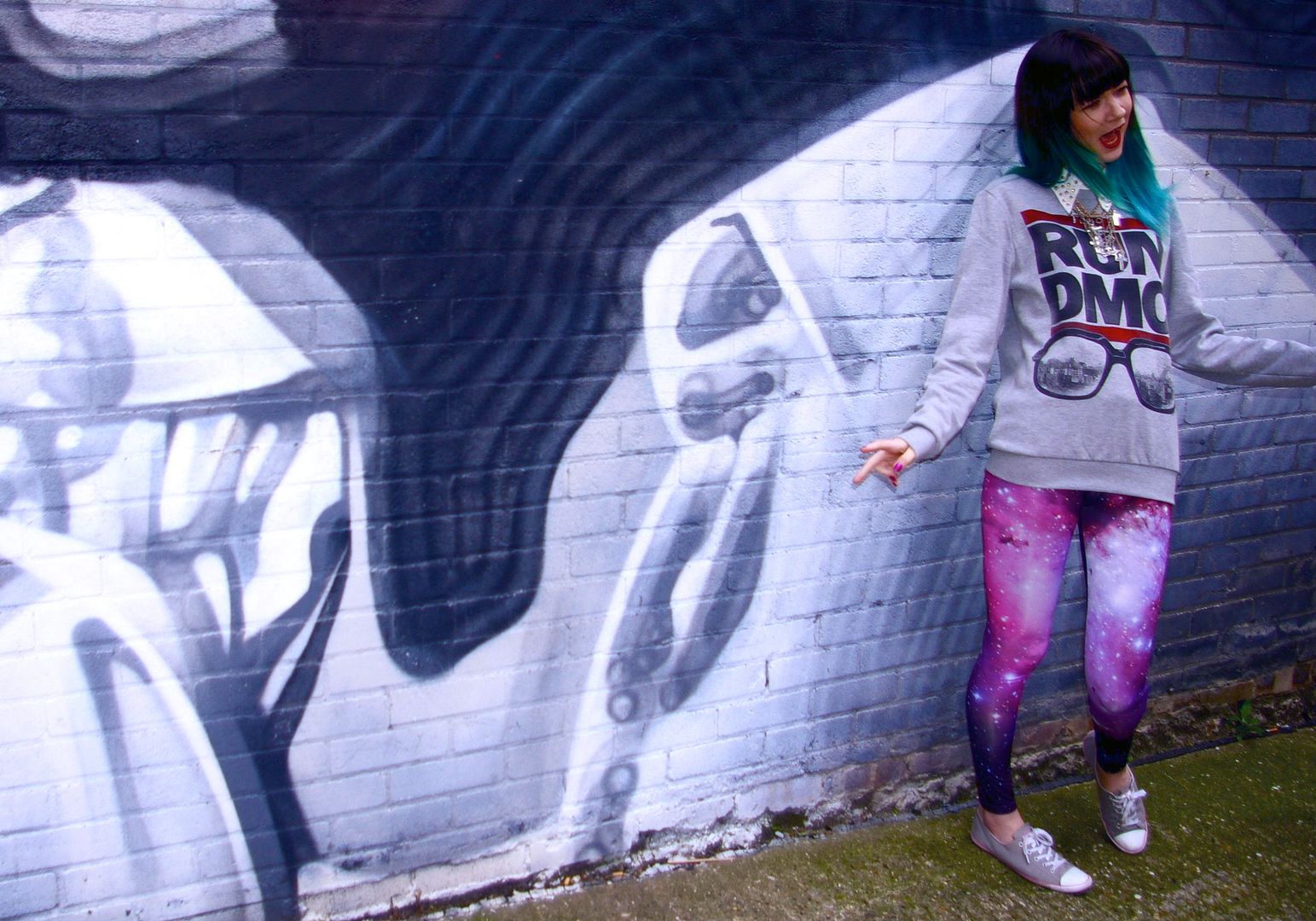 | jumper: new look (mens) | shirt: zara | necklace: new look | leggings: romwe | shoes: converse |
I really like mixing up a casual street style with a more refined smart style, and my favourite way to do that is by wearing a shirt - this is a silk Zara one - with a jumper of some kind. I spied this jumper in New Look a month ago in the mens section of Oxford Street, and couldn't resist but take it home with me. Hey, i'm not saying i'm the worlds biggest Run DMC fan, but if It's Tricky comes on the stereo I know how to a bust a groove like its the early 90s all over again. In my day job at VICE, the office style is varied. From super casual to high fashion, it's always a contrast and mix of fabrics and textures. It's great for me because from day one i've always been able to express myself fully through my clothes and no one even bats an eyelid when I rock up in an outfit like this and it's the most comforting feeling possible.

Black Milk rule the world of coloured leggings at the moment, for sure. But there are a whole bunch of other sites that sell them for much cheaper and some of my
favourites come from Romwe, where they sell them for $26
. Amazing. These ones are quite bold and colourful but theyre less bright on the back, so you don't feel super self concious when walking about in them. They're really comfy and they're elasticated round the waist so they don't feel suffocating or too tight like some super spandexy style ones can do. I really rate them - I have two pairs from Romwe now and I love them both.
As always, sneakers it is for me. I'm a sneakers girl. Converse have made this huge campaign at the moment that's taken over East London and every morning I see it all over the tube it makes me smile. It's full of little sayings that embody what it's like to be a sneakers wearer, cause it definitely is a certain type of person. They include things like the title of this post, as well as "Sneakers go home at dawn, shoes go running at dawn." or simply "Sneakers would, shoes wouldn't." It's not necessarily a bad thing to be a smart shoes wearer but it's hammered the nail on the head as to who wears sneakers, and it's predominantly the creatives of the city. I can barely be parted with mine, even if i'm wearing a super smart black dress I still chuck on my chucks.
What do you think of brightly coloured leggings like this? Do you feel comfortable in what you wear day in day out? Would you ever buy a mens jumper like this? Let me know what you think!
Love, Zozo
x
Disclaimer: Romwe leggings and Converse shoes gifted to me for free. Graffiti art featured is on Holywell Lane, Shoreditch.