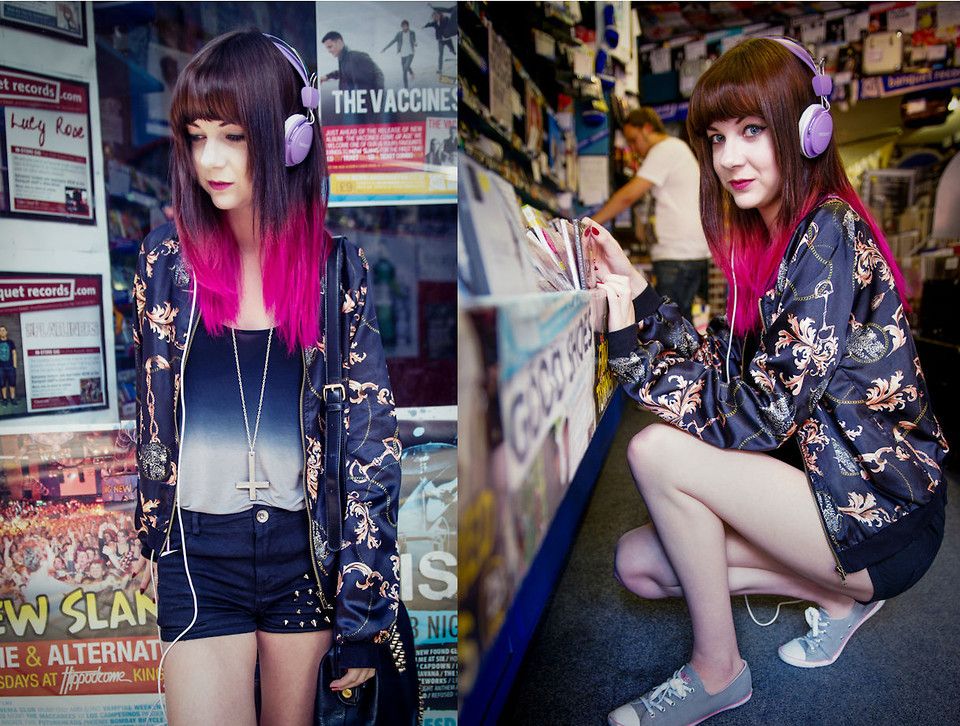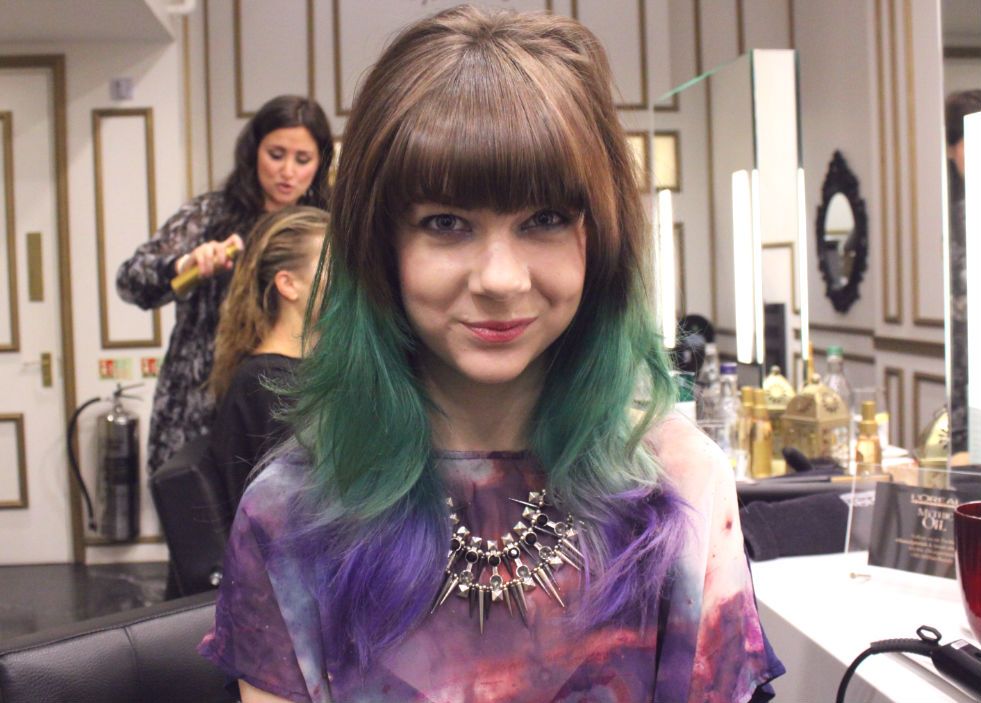 Some things to bear in mind when dip dying hair and how I dip dye mine!
Okay so one of the most asked things I always get is how I dip dye my hair.
Seeing as I told all of you to bite the bullet and give it a go in last months sporadic honest post about appearance
, I still firmly believe this but understand a lot of you would maybe be stumped on where to start and this is where I can most certainly help as it's almost second nature to me now! Yesterdays post was all about dip dye at home and I want to continue the theme today as it's very close to me.
Fast forward back nearly the entire year and this is when my dip dye adventure began. I started by having mine done for the very first time at Lisa Shephard Salon in Soho, London (but it's a chain all over the UK.) I can really highly recommend this as the bleach job was first done properly and I learnt a lot of tips from the stylist and also had it done perfectly to begin with so all I'd need to do at home was top it up. However, it can be pricey and it is so easily accessible to do at home now, and for the last 12 months I have been doing mine all myself at home so here is my ultimate at home dip dye lowdown, as asked by you. So, over to you and your questions!
What hair colours do you use and which is the best?
Okay so I have used pretty much every single brand and there isn't really a right or wrong answer to this one because it's down to personal preference. I wouldn't recommend Stargazer, as in my hair it washed out very, very quickly (we're talking two days) and I wouldn't recommend Manic Panic simply because it's very pricey and hard to source in the UK (but if you can get hold of it, it is fabulous.) The two hair dye brands I live and dye by are both found in Sallys and they are Crazy Color and La Riche Directions. I use Directions Turquoise and Crazy Color Baby Blue.
How many times do you have to bleach your hair?
Again, please assess your hair first and work out which is the right time for you, but for me my hair is very dark and it takes about two bleach sessions to get it white. Do not do this one after the other unless you want frazzled, dry, disgusting hair! Do one bleach session, then do the next about two months later. Dye the colour on it in the meantime (as long as it's not properly properly yellow) but please for the love of god leave a good time between bleaching. I cannot stress this enough. A great thing to do is to invest in a lilac toner, this will tone the blonde hair white.
How often do you have to re-do it?
This really depends on the colour you dye it. When I had pink it was once a week, as pink is one of the colours that washes out very quickly. The new turquoise and blue shades are usually once every three weeks now.
Which colours last in the hair longer?
Again, I am only speaking from experience but in my experience ones that last well for longer are, green, blue, turquoise, dark purple, black and plum. Ones that wash out very quickly are red, orange, pink, light purple/fuchsia and yellow (goes blonde quickly.)
How do you make a colour pastel rather than bright?
To get a pastel colour, you should get a little plastic bowl with a plastic brush (don't use metal) and mix a very little of the dye with a lot of conditioner. Do not ever mix bleach with colour, I repeat do not ever do this. It will just result in bleached hair, bleach and colour do not mix. Alternatively, dye your hair really bright first then wash it vigorously the next day - this creates a faded shade.
How do you stop it looking like a block colour?
Okay, doing a dip dye and doing an ombre are a little different - if your hair is quite soft brown you can get away with just rubbing the bleach into your hair with your hands. But with darker hair and also colourful dip dye, it can look a bit blocky/home done if you do it like this. What I do, is i take a fine toothed comb and section off the hair. I very gently backcomb the hair so it creates a bit of a knot halfway up my head. I do this lots of times for lots of different sections before rubbing in the bleach and the colour. By doing this it doesn't create a block line and has more of a blended/mixed up effect which looks better in the end.
How do you do a double dip dye?
This is a little difficult, and it does take a lot of patience and time. Do the first bit of hair as instructed above but leave a gap at the bottom of the hair. Then rub the second colour into the tips making sure you really really blend the bit in the middle where they meet. I think this does generally look better with two colours that blend into each other, i'm really happy with my turquoise to baby aqua blue mixture now, i think it looks better than it did when i first did it with purple on the tips.
Help! I've got dip dye on my clothes/face/carpet! What removes it?
Okay firstly, I use a creamy cleanser and rub it all around my neck and hairline before I do any dying. This should stop it going on your face. I do always usually end up with a green neck though, and the best thing to do is scrub at it with makeup remover, I use my Bioderma and it works a treat. Also exfoliating that bit of skin helps. As for your clothes, try vanish or a really good wash. I do often get green collars when I wear a white shirt, but a good wash gets it straight out. Your carpet, my secret tip is to use hairspray! I discovered this back when I was renting flats and I got dye in the carpet. Spray hairspray liberally to the carpet then scrub - it lifts right out, promise!
So wait, I shouldn't use hairspray?
Honestly, I do try and avoid it wherever possible. Especially when my hair was pink. Hairspray clings to the dye in the hair and helps it lift out quicker. If you can, avoid using it. I use things like salt sprays and volume boosters at the roots to help keep my style. Or use a much softer hairspray, not one of those super freeze hold ones.
Can you go swimming with dip dye hair? Or go running in the rain?
I have been caught in the rain before and turquoise has ended up on my coat. Like I said, it does wash out, but after a fresh dye it can still be easy to get it out so i'd recommend carrying a brolly! As for swimming, you most certainly can't go with your hair down, it will all run out in the pool around you and probably result in you being kicked out! (Unless its your pool.) I put mine really high up in a tight top knot. If you're feeling really brave, get a swimming cap. But top knots are totally fine, just no deep sea diving for you!
How do you look after it once it's been dip dyed?
I cannot stress to you enough the importance of a great mask or conditioner. I have gone through several in my hair routine, from TREsemme to Tommy Guns to L'Oreal to all sorts. You must must must do a hair mask at least twice a week otherwise your hair will go to straw. Your other best friend is a hair oil, I use a few from Mythic Oil to Moroccan Oil to L'Oreal Elvive. This is a great product and will really, really help. Also do not even think about blowdrying without heat protection. Try to use as little heat as possible, I usually blow dry my hair on the lukewarm and then coldest setting.
I don't want dip dyed hair anymore, help me get it out/it's gone wrong?
Don't panic if it goes wrong. I always keep a box of dark brown hair dye in my house just incase of hair errors. Invest in this when you buy your colour. If the bleach has gone wrong, try toning it and see if it goes less orange/yellow. If it still hasn't, either try work with it for a couple weeks then bleach again, but if you really can't stand it, dye your hair brown with a red toned brown. Do not use an ash coloured brown, it will go grey. Stick to red based browns. When you bleached you stripped all the red out of your hair so you need to put it back in again. I wouldn't recommend "Colour B4" because it in my experience doesn't work on brightly coloured hair. It just made my hair go really really green when I tried it once before!
I think I have covered everything! Please leave a comment letting me know if I missed anything off and please tweet me any pics of your dip dyed hair if it's already dip dyed or if you're doing it after seeing this post! I love seeing coloured hair, i'll probably get hair envy!
@londonlipgloss.
Love, Zozo
x
Disclaimer: Please remember that what works for me may not work for you, i'm also not a trained hairdresser but i've been home dying my hair for over ten years (I know, I have a really good set of parents to let me do that!) Please do embrace it, it's just hair, it will go back/can be fixed. x