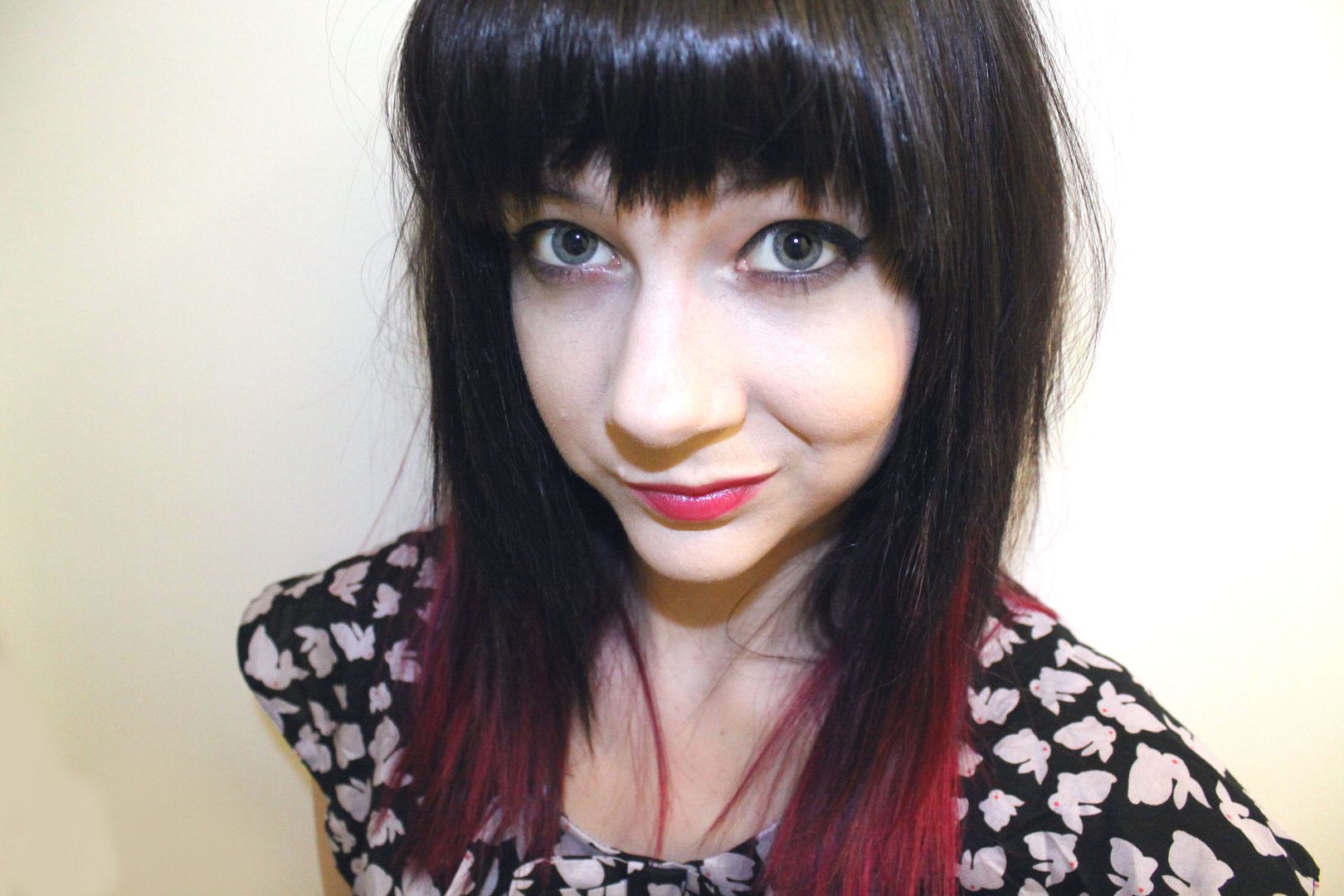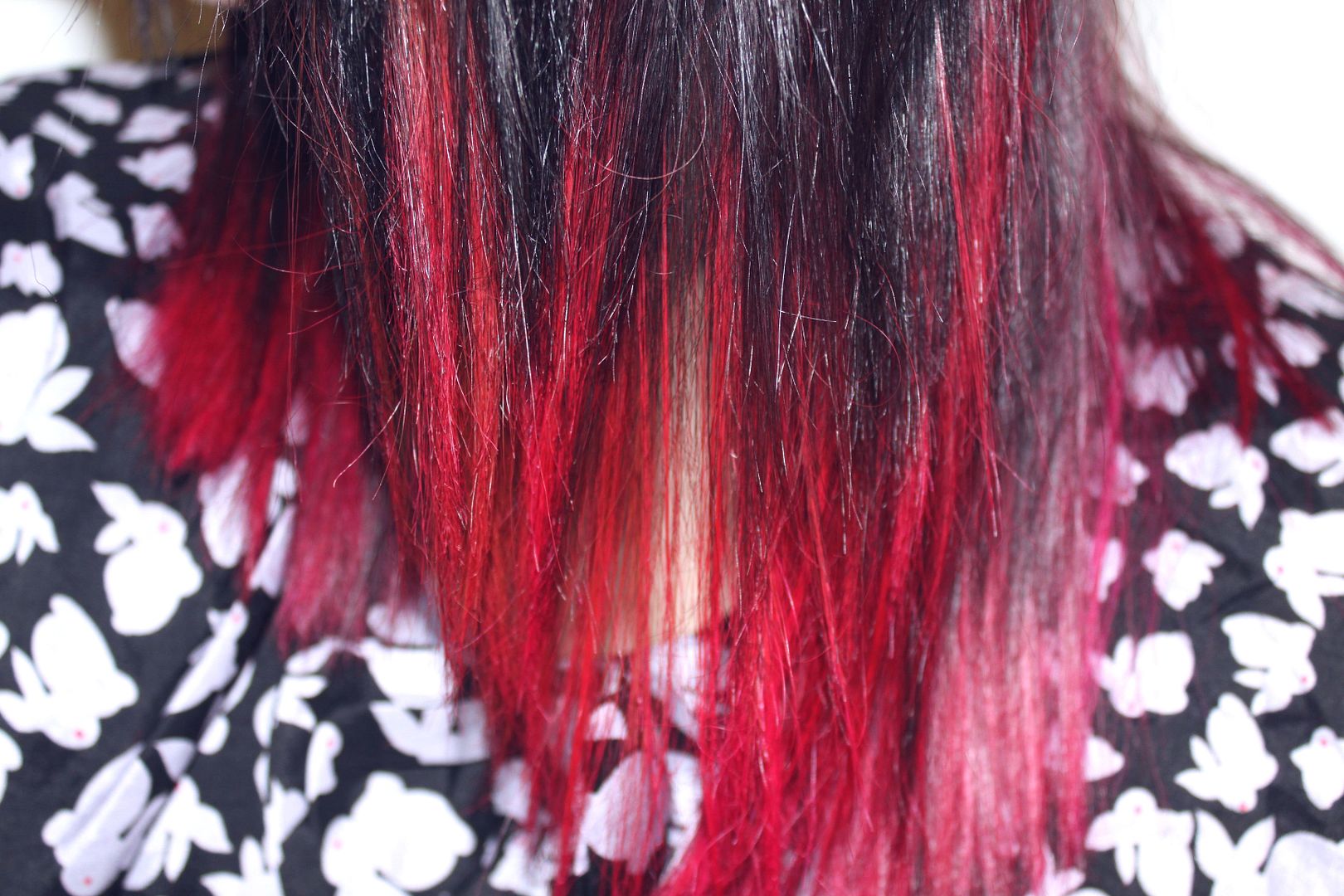 | hair by lisa shepherd london |
| foundation: bare minerals in fair | concealer: nars | eyeliner: fashionista secret gel eyeliner in short list | set with illamasqua pigment in zeitgeist | lipstick: loreal rouge caresse in impulsive fuchsia | blush: nars super orgasm |
I very rarely do either of what is outlined in this post and that is 1. A Sunday catchup and 2. My makeup face. I think this is purely because I don't think i'm blessed with the best face for closeup photos! I have always struggled a bit with confidence on this blog and popping up a close up photo of my face isn't always what I want to do, we're all human after all and it took me a hell of a lot of courage at first to even post any sort of photo of my face on here let alone regularly! I feel that if you write a blog recommending things you like and wear it's only relevant every now and then, and true and integral, to post a photograph of what you do actually wear and how the makeup sits on you so here you go - a little snapshot of my mug! And I promise I will try my hardest to overcome the courage issues and post more photos of my face - if you like this one that is *trembles*.
So yesterday I popped down to see Jason at Lisa Shepherd London to get my real hair dip dyed! If you didn't know by now, I think most of you do seeing as I outlined in a post how I dyed them, my dip dye before was with hair extensions. This was great because it gave me a chance to test the water, see if after a few months I really really liked it still and fortunately I still did. Did any of you know that Lisa Shepherd does crazy colours? I didn't, but was thrilled when I heard they could do my pink. I'll write a full post outlining the salon and it's colour pricing and how it works later on but for now... ta daaa! Here it is. It looks quite red in these photos but the colour is so vibrant it can sometimes show a reddy pink. It's very bright in real life and I absolutely adore it. So yes, this is my real hair now and I plan on keeping it that way for some time!
Tomorrow I fly off to Barcelona with Easyjet and i'm very excited albeit a little nervous. But of course I am, i'm flying away on my own without the comfort that is my Del and staying in a hotel by myself. I have this weird anxiety thing sometimes where I can't really sleep at night at all unless someone else is in the bed with me - I think once you're in a relationship with someone for so long you get used to them being there and when they're not it throws you. I'm looking forward to having a few nights all to myself but I know i'll struggle to sleep a bit without the familiar face of a stinky boy! The bit i'm most looking forward to is the bit where I know i'll flourish, our free day on Tuesday. Basically i'm a complete nightmare and magpie. If i see something I like the look of i'll walk towards it. If i'm going past a tube stop i've never got off at before i'll get off there. Taking me for a walk is a little like controlling a toddler, I do often just run off of my own accord going 'ooooo0oohhh...' but on this one occasion, it works.
I love interaction on this blog, please do tweet me, facebook me or comment here telling me what you think, what you want to see and what you like. I love to chat. If we've never met in real life or if you read lots and have never said anything before, come through and say hi! Hope you have a lovely Sunday. Bear in mind the next few posts will be scheduled posts while i'm away and look out for a cheeky Barcelona catch up while i'm there on Tuesday. Do you like my pink dip dye? Should I do more face posts?
Love, Zozo
x
Disclaimer: The haircut at Lisa Shepherd was provided free and each product used above on my face was also all PR samples sent to me for consideration.