I know exactly what you're thinking, don't worry, I thought it too. "Isn't that? Oh that reminds me of..!" And yup, i'm pretty certain Maybelline knew it too. Oh hello YSL Glossy Stains! Oh yes, enter in Maybelline's offering to the new stain/gloss lip product world, what they're calling the Super Stay 10h Tint Gloss. I'm never one sucked in by products that tell me the time they're going to last, so many brands seem to do it now and it completely washes over my head. It's not something i'm at all interested in, or sells me on the product. With this, Maybelline are claiming it lasts for 10 hours straight. If you think about it, that's a really long time for a lip product, and as soon as I saw it I wasn't 100% sure it would be accurate.
YSL Glossy Stains cost a lot of money, one of them equals out at roughly enough to feed Del and I for two days, twenty two items from Make Up Academy or two new tops from h&m, whichever you prefer. £22.50, that is a lot of your English Pounds and although I had a bad experience with a pale one, I now have a darker shade and I have to say it is amazing. These bad boys from Maybelline retail at just £6.99, just a third of the price of one Glossy Stain. Much better! But are they as good?
The YSL Glossy Stains come in twenty different shades to begin with, which is a huge plus point because it gives loads of different options for colours. In the USA, Maybelline's Super Stay 10h Tint Gloss comes in ten shades, not bad not bad, but in the UK we only get five! Rubbish. They're still a nice range even if they're quite similar but there's still enough for everyone to find the right shade. Lets take a look at the four I have, sorry I don't have the last one!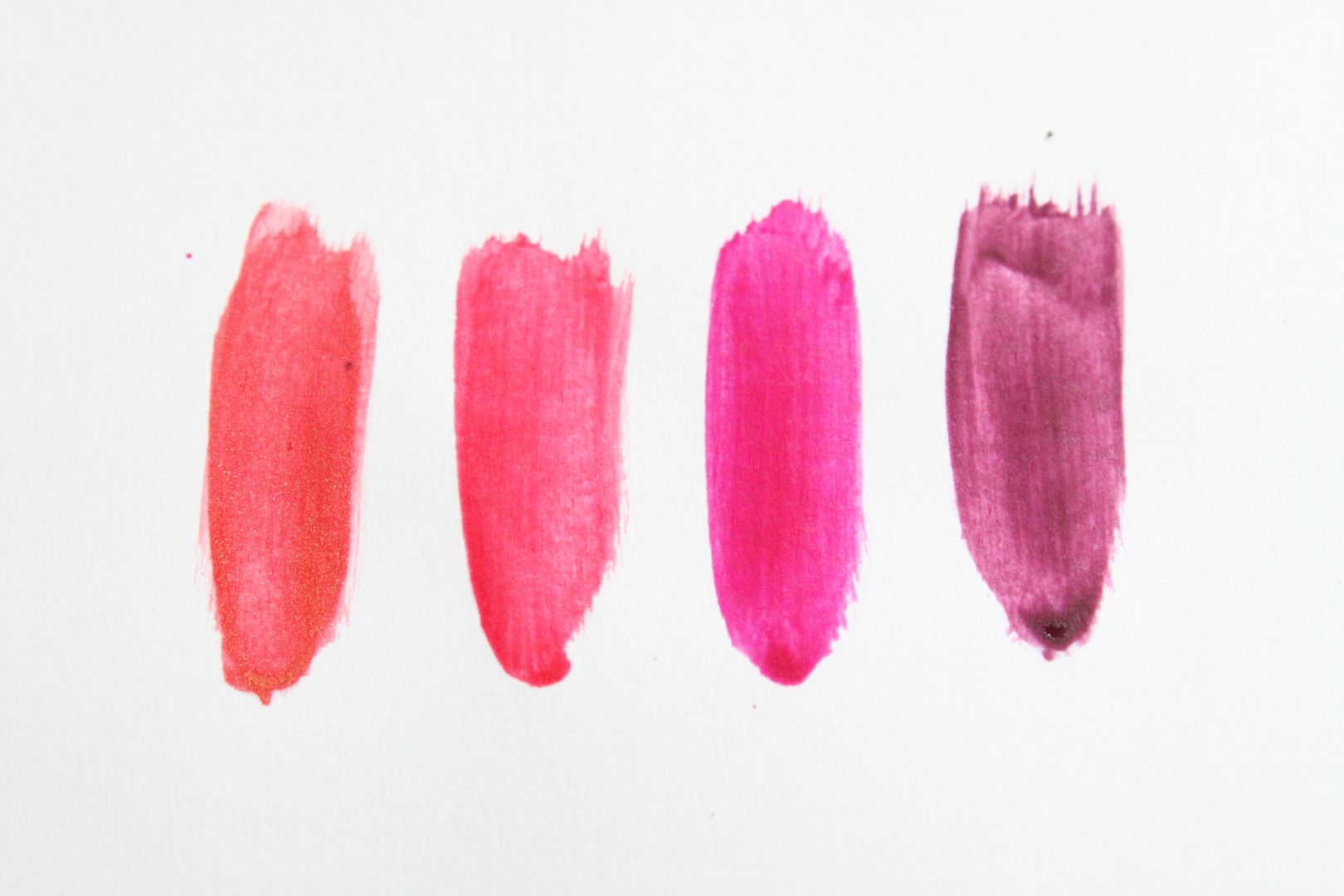 l- r: forever coral, lasting pink, forever fuchsia and timeless plum
I popped them on my arm at the start of the day and then took a follow up picture with the same camera settings 10 hours later so you could see the wear: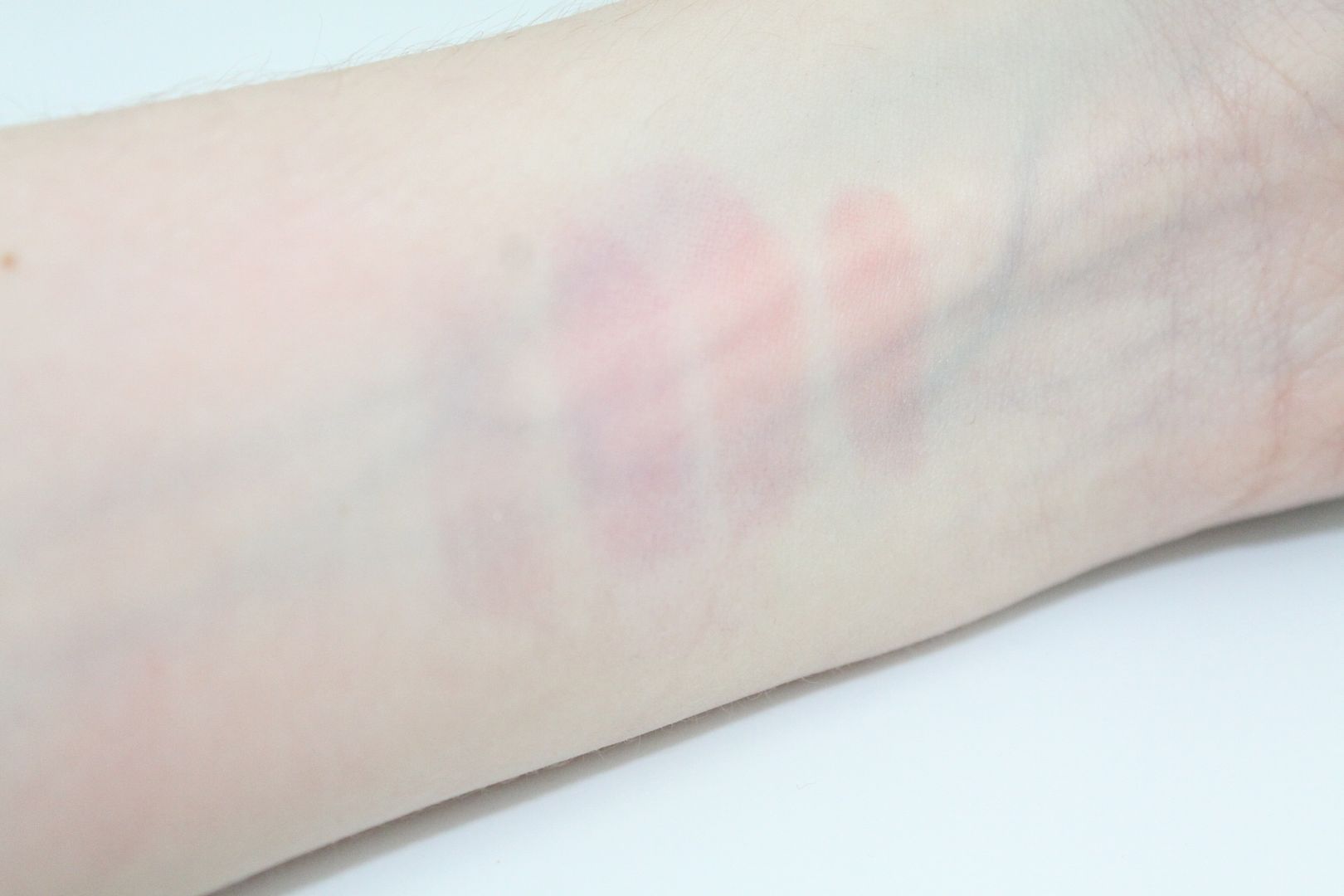 As you can see, they don't really stain. This is on my arm too so bear in mind the lips are used a lot more, eating, drinking, even talking! I find the Glossy Stains from YSL properly stain my lips for 24 hours but these take a few top ups during even the 10 hours it claims. They're also not quite as glossy as the YSL ones, but I do like the finish they give.
Overall i'd say if you're after a stain this isn't really it, but they are a great lip product because of the fact that they're not really a gloss. They're definitely however, a tint. They tint the lips and provide really lovely pay off. I can see lots of girlies loving these due to the fact that they're not a massive stainer and also that they're not horribly glossy - I keep reaching for them due to that fact too, and it's because glosses can often be too sticky, or too much. This gives off great pay off and it will satisfy anyone craving Glossy Stains!
Maybelline 10h Tint Glosses will be on sale in the full five colours (Endless Ruby not featured) from April 2012 for just £6.99.
What do you think of these Maybelline 10h Tint Glosses? Are you thinking of grabbing them instead of Glossy Stains? Will they never compare to Glossy Stains? Do you like the packaging? I LOVE the applicator! Need more lip products with applicators like that...
Love, Zozo
x
Disclaimer: The four 10h Tint Glosses were provided free for consideration.