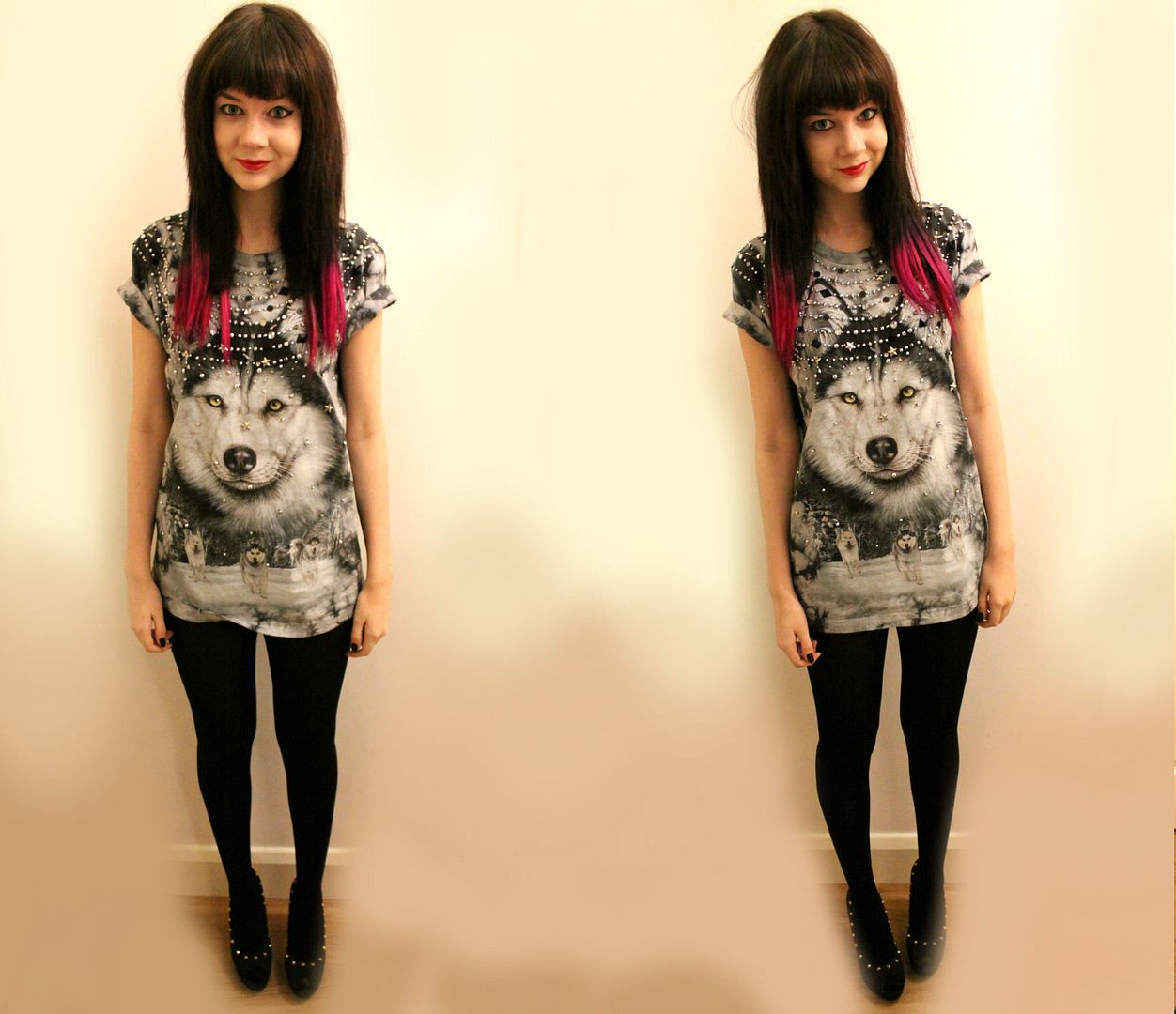 | t shirt: avion en papier | shorts: h&m | shoes: new look |
I decided to dedicate my post this evening to the amazing
Amy from Wolfwhistle
who's blog i've adored for absolutely ages. Every time I ever even hear the word 'wolf'' or see something with a wolf on I always think of her immediately! I spied this top as a concession in the flagship Topshop store on Oxford Street and it's by a brand called Avion En Papier who I couldn't find any official website or online outlet for at all. I absolutely loved it and had to own it immediately. It's literally hipster as hell, look at all those embellishments, its tie dye and it's got a wolf on it. I mean, come on. Amazing. It set me back £60 but I think it's totally worth it - i've never seen anything else like it ever. It's quite big and feels like the thick cotton of a mens tee so I always cuff the sleeves for a little more of a girly effect but I think it's a real statement piece and definitely catches eyes! I wore it to Fashion Week the other weekend and a little girl on the tube tapped my hand and said 'I like your wolf!' She was only about five! She had been gazing at it all journey and told me just before she was about to get off. Really sweet. I love this tee so much and i'm definitely wearing it far more than I should. Really, really dreading washing it though...eek! I know it's not much help me not being able to link to the brand anywhere but if you pop into big Topshops where they have concessions (again, I can confirm it's in Oxford Street but don't know any others..) you might stumble across it!
I'm definitely heading back in to get some more bits from Avion En Papier! What do you think of this look? Would you wear something similar? A little short but sweet post for you this Sunday as once again Youtube has failed to upload my video - sort it out mate! Hopefully it'll be up tomorrow.
Love, Zozo
x
Disclaimer: Everything in this post was purchased here by me. Yippeeee! I featured Amy out of my own choice btw, I don't give love back to bloggers enough on here and i'm gonna try and slip it in all subconcious like...