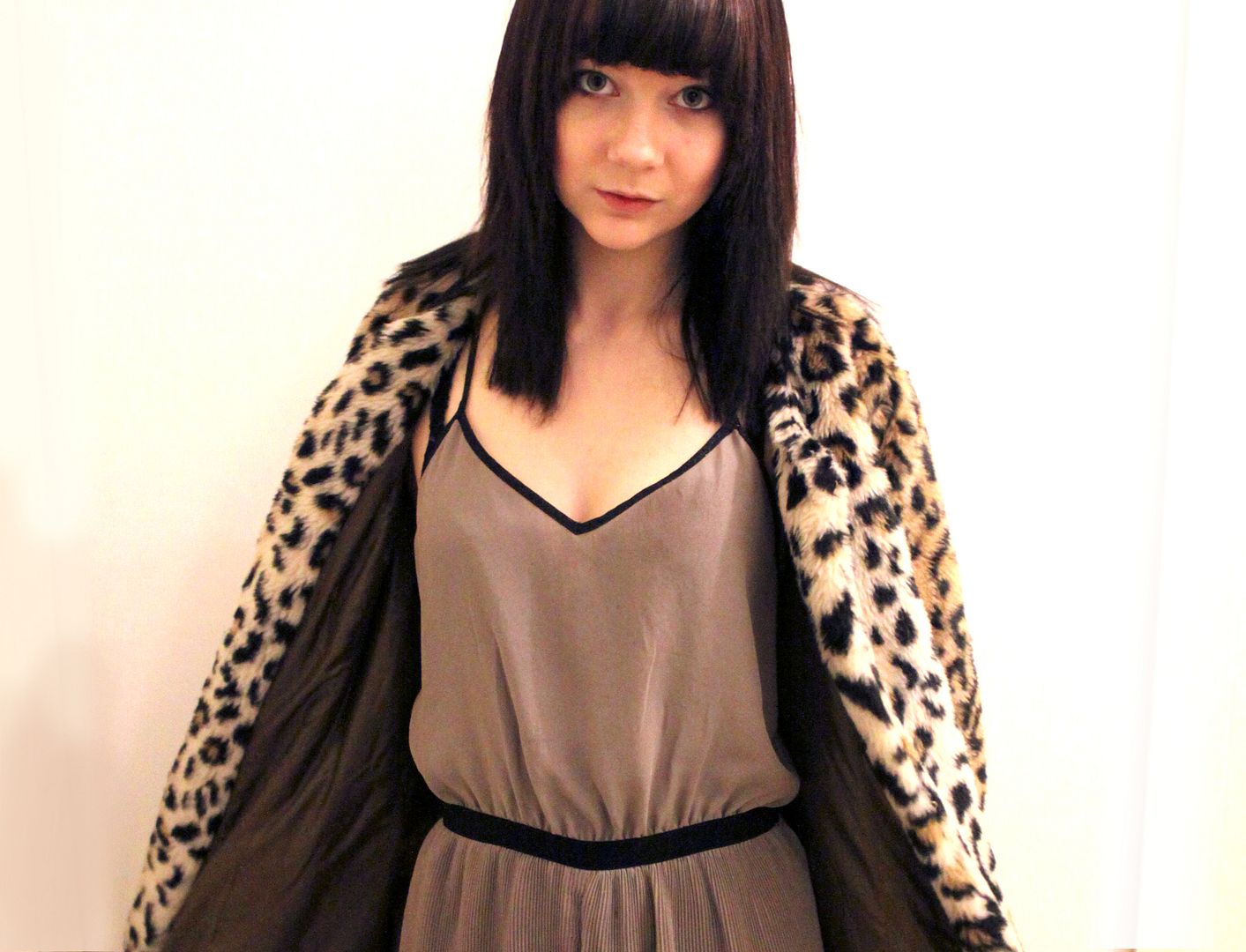 coat: forever 21 | playsuit: h&m
I've been living in this coat basically since I got it about a week ago. It's so warm! As I tweeted a little while ago, I'm worried it's going to turn into
Homer's old dirty poncho
! It's perfect for snuggling in when braving the cold, for snuggling on the sofa in, for snuggling in at the desk at work and for well, snuggling in general! It's from Forever 21 which I know is quite hard to find in the UK but you can get it online now, and I'm warming to it each time I pop in. I wasn't sure how to feel about the store at first, and it did help when I saw the S/S 12 collection and invisaged the future for F21, because I have been frequenting the store since it came in the UK on it's opening day. There definitely are some gems and definitely some stuff I don't like - but I think that's the same with a few stores on the UK high street.
My playsuit is from H&M (obviously!) and it's a soft silky effect. It was only £24.99 and is absolutely gorgeous on. I love the soft effect it has -it does genuinely feel like i'm sitting in my pjs! One thing about it is that it totally picks up every tiny little spill, even a little water! I've had to wash it straight away after wearing it once just because of the colour and the nature of the style it looks weirdly dirty even if it's not. Which is a bit annoying but such is life!
I love teaming a big faux fur coat with a little delicate number - it's very Marilyn Monroe esque and I really love that style. It's totally warm, but still feminine and pretty at the same time.
The F21 coat can be bought
here
.
What do you think of this style? Do you like my coat and playsuit? Would you wear something like this or is it not your style? Let me know! My blog wont let me comment on my own comments at the minute but I love hearing what you have to say!!
Love, Zozo
x
Disclaimer: The Forever 21 coat was gifted to me by Forever 21 and not paid for with my own money. The H&M playsuit was bought by me entirely.