Hello lipgloss eaters! How are you all doing? I hope everyone is well and enjoying the half term if you're a student or a teacher. I've actually decided to take a year away from Uni - with the possibility of not returning, in the hope of finding a new job. So things are a bit hectic and also a bit emotional for me at the moment, as i'm struggling to come to terms with this last minute decision. More on that later.
So as we know i've been sporting a blue Ramona hairstyle for quite a while now, but what happens when you don't have any time at all to re-dye it?! Well, surprise surprise, it goes a bit green. Totally not intended but i'm trying to make it work as much as possible...
So yeah, it's gone a bit of a funny mint green shade. Bleh. Nevermind. I'm trying to rock it as hard as much as possible, and i've been using my KMS Hairplay Dry Shampoo inbetween washes to try and keep it fresh and actually i'm a bit of a dry shampoo convert. I hated the stuff until I tried the KMS one, and yeah it is like £18 a go but it's wicked, and it's not left my overnight bag since - and I pretty much live out of my overnight bag! You know when Gaga once said that she had no home and her suitcase was her home, i'm a bit like that at the minute. *sigh* Anyway yes I am planning on dying it again, however now i've seen Katy Perry's new hair i'm pretty tempted to do it like that...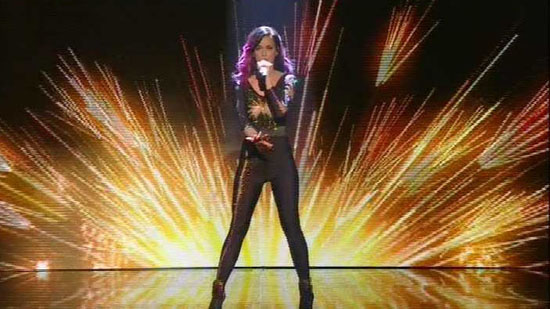 Ahhh Perry I do heart you. Thoughts in the comments box please! Where should my hair go next! You decide!
So it's been bloody freezing in the UK these last two weeks and I decided I really wanted some kind of fur, the plan is to buy a fur coat (faux of course darling!!) and I went into Topshop and saw this gorgeous shawl/scarf and could not resist.... here's me playing about with it for a 50s inspired video shoot for Mr Turner:
Also featuring my new favourite dress ever - £25 from H&M and i've worn it out so many times I can't even remember how many now, but it is gorgeous. It has the option of straps which are coated in those cute little studs that are on the top of the dress (that you can just about see!) The scarf from Topshop was £25 and again, ive not taken it off! It's come with me everywhere and it's so so nice to snuggle up in on the cold train in the morning to work.
So as mentioned earlier i've not been at Uni. I'm currently travelling back to Cambridge every Saturday night/Sunday morning, staying with my family and i'm interning at a music pr company in Cambridge on Mondays and Tuesdays, then returning to work full time at Gap on Wednesdays, Thursdays, Fridays and Saturdays. While helping Del with gigs in the evening and photographing other gigs in London. Phew! However I am pleased to report that the internship is going well, I love it! Spent all day today checking press releases and generally feeling the buzz about Weezer and it's so exciting. Hopefully soon I can do this full time because I absolutely love it.
Speaking of Del..
On the 30th October we're travelling to Switzerland as i've been given the opportunity to photograph Biffy Clyro and Oceansize and i'm so so so excited I might burst! Biffy have sold out Wembley arena so to photograph them will be incredible, and it'll be nice to spend some time with Del too. We spent saturday night wrapped up in the duvet, watching x factor and eating cookies and it was absolute bliss. Very happy at the moment with Del and I hope it continues that way! :)
Biffy Clyro
Anyway there's a little Zozo update! Mega sorry i've not had much time to comment and read your blogs, I miss it. Hope everyone is well and I hope to see you soon! Lots of love,
Zoeeee xxxxx